AML/CFT HealthCheck - AML360
What is an AML/CFT HealthCheck?
The purpose of an AML/CFT HealthCheck is to identify any weaknesses or deficiencies in the organisation's anti-money laundering compliance program.  Following compliance analysis, the AML/CFT Health Check results will include recommendations for improvement where defects are detected.
An AML Health Check is an important compliance tool for ensuring that a business meets its obligations to prevent money laundering and other financial crimes. Checking for AML/CFT compliance weaknesses assists in protecting the reputation and legal standing. 
The results of the AML/CFT Health Check will include an overall AML/CFT compliance risk level.  Additional to an overall risk compliance score, it identifies individual characteristics of an AML/CFT program and provides a risk rating and advisory notes. The AML Health Check report is provided following a comprehensive review.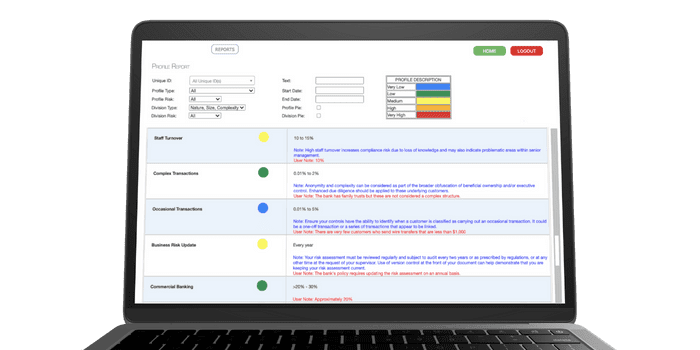 What can an AML Health Check be used for?
An internal business team, external consultant, or auditor may conduct an AML Health Check.
Having controls for identifying weaknesses in an AML/CFT compliance program is a governance requirement. Often referred to as the risk-based approach to compliance, the AML/CFT HealthCheck measures against regulatory obligations.
AML360's Health Check provides a case management feature. Once updates of weaknesses are tracked and remedied, your organisation can update the healthcheck for an improved compliance report.